On March 31st. 1406 Ow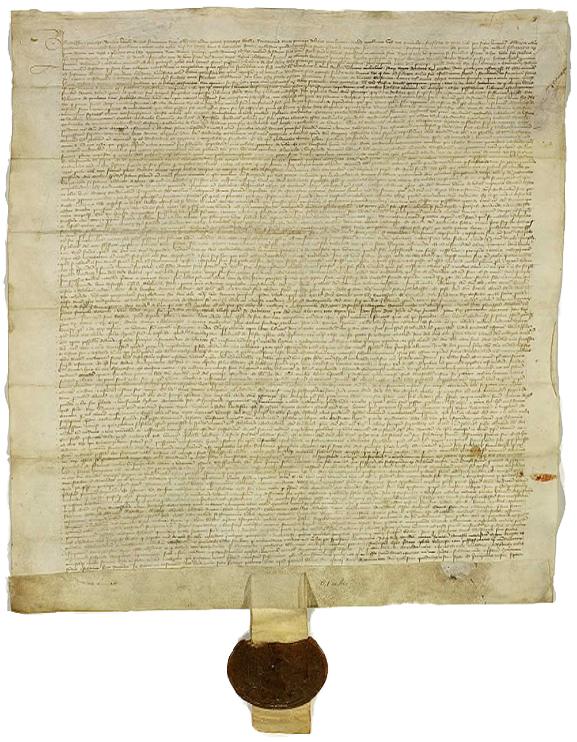 ain Glyndwr sent a letter in Latin to king Charles V1 of France at the synod of the Welsh Church at Pennal, near Machynlleth. Glyndŵr wrote to seek the king's support for his campaign to rid Wales of oppressive English rule (there were severe discriminatory laws favouring the English over the Welsh in Wales). In return for French support Owain was prepared to recognise Benedict X111 of Avignon as Pope (in place of Pope Innocent V11 in Rome, whom the English recognised). Benedict was expected to support more suitable ecclesiastical appointments in Wales. Click here to see the full text of the letter.
Before Owain's time bishops were almost always English - between 1372 and 1400 out of a total of sixteen bishops appointed in Wales, only one was a Welshman. Owain campaigned for a Welsh (and Welsh-speaking) clergy. He called for a crusade against Henry 1V, and forgiveness for all his own supporters. St David's would be the seat of a restored Archbishop of Wales whose domain would include the diocese of Exeter, Bath,
Hereford, Worcester, Coventry and Lichfield, and in so doing return to the arrangement that applied at an earlier period in Britain's history. Income from monasteries and their lands would be retained in Wales.
His vision included the establishment of two universities - one for north Wales and the other for south Wales (there were only 22 universities in the whole of Europe at the time).
The original letter is held at the Archives Nationales in Paris but facsimile copies of the letter were presented to the following: St Peter ad Vincula Church, Pennal; The Owain Glyndwr Centre, Machynlleth; the National Library of Wales; Glyndŵr University; National Museum of Wales; National Assembly of Wales. These exact facsimile copies on parchment, prepared by the staff of the National Library of Wales, should be seen to be appreciated. The staff used specialist ageing techniques and the seal of Glyndwr was recreated from moulds of the original seal.



Cymraeg
Latest Updates
Comments/Suggestions