The monument is a 5m slate monolith from Penrhyn Quarry, near Bethesda in north Wales, which was kindly donated by McAlpine Ltd. The body of the monolith is approximately 1m in width and depth. It is located in Machynlleth.
The head of the monument displays the Great Seal of Owain Glyn Dŵr. This is gilded to give it greater prominence. The Great Seal is incorporated to emphasis Owain's significance as a statesman and is circumscribed w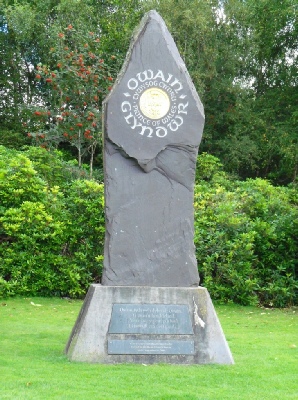 ith the legend Owain Glyndŵr Tywysog Cymru Prince of Wales.
The plinth displays a poem written in cynghanedd in a traditional Welsh form known as an englyn. It is the work of local poet Dafydd Wyn Jones, who won a competition for writing an englyn dedicated to Owain Glyn Dŵr on the Radio Cymru programme Talwrn y Beirdd. Mr. Jones' translation of his englyn reads:
Owain, you're our defiance, - Owain,
Yours is our allegiance,
Our steel, and in your stance
See our nation's renaissance.
The monument was designed and sculpted by the internationally renowned calligrapher and sculptor Ieuan Rees. It was unveiled in the grounds of Y Plas, Machynlleth on September 16th. 2000, the six-hundredth anniversary of the day Owain was proclaimed Prince of Wales.



Cymraeg
Latest Updates
Comments/Suggestions