Owain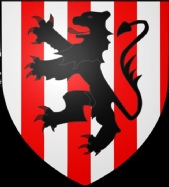 Glyndŵr was the son of Gruffudd Fychan ap Gruffudd, and therefore a descendant of the princes of Powys Fadog. Gruffudd Fychan was the lord of both Glyndyfrdwy and Cynllaith, covering land on either side of the Berwyn Mountains. He had a manor house at Sycharth near Llansilin, and a hunting lodge next to the river Dee near Carrog. Gruffudd's parents were Gruffudd ap Madog and Elizabeth Lestrange (of Knockin).
Elen, Owain's mother, hailed from Ceredigion on the west coast of the country, however. Her father, Tomas ap Llywelyn, was the descendant of the princes of Deheubarth, and the family held lands in the commotes of Iscoed and Gwynionydd in the Llandysul area. Elen's sister, Marged, married Tudur ap Goronwy of Penmynydd in Anglesey, and their sons (Rhys, Gwilym and Maredudd) all supported their cousin's Uprising.
We know that many of Glyndŵr's relatives were present in Glyndyfrdwy at the start of the Uprising in September 1400. His brother, Tudur, was one of his biggest supporters, but another brother, Madog, was most probably dead by this time. He had two sisters, Morfydd and Lowri, who married Dafydd ab Ednyfed Gam and Robert Puleston, respectively.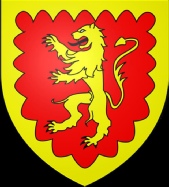 In 1383, Glyndŵr married Marred (or Margaret) Hanmer, who Iolo Goch described as the 'best of wives' and a 'fine girl of a knightly line, noble and generous by nature'. She was the daughter of David Hanmer, a prominent lawyer from Maelor Saesneg, and his wife, Angharad ferch Llywelyn Ddu. Marred's three brothers (Griffith, John and Philip) played prominent roles in the Uprising, as did two of her uncles (Maredudd ap Llywelyn Ddu and John Kynaston).
Iolo Goch described Owain and Marred's children as a 'fair brood of chieftains'. We do not know how many children Owain had altogether, but it is thought that he had at least six sons and six daughters - Marred was not the mother of all of them, however.
His sons were named Gruffudd, Madog, Maredudd, Tomas, Ieuan and Dafydd, with the last two being illegitimate. Gruffudd, the eldest, was captured at the battle of Pwll Melyn in 1405 and died a few years later in the Tower of London. The rest of the brothers died fighting for their father - except for Maredudd, who took over as leader of the Uprising in 1412 and eventually accepted a pardon from Henry V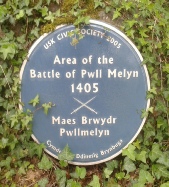 in 1421.
Glyndŵr's daughters were Catrin, Sioned, Marged, Alys, Myfanwy and Gwenllian, with again the last two being illegitimate. The first four married into respected families of the March: Catrin married Edmund Mortimer; Sioned married John Croft; Marged married Richard Monnington; and Alys married John Skydmore. The other two girls married into Welsh families: Myfanwy to Llywelyn ab Adda of Llansilin; and Gwenllian to Philip ap Rhys of Cenarth.
Legend states that Owain spent a good part of his last days at the Herefordshire homes of his surviving daughters.