Rhys ap G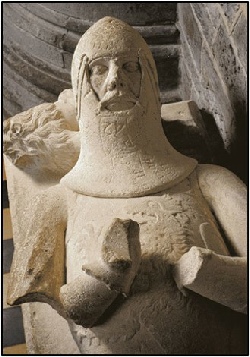 ruffudd (better known as Yr Arglwydd Rhys) was the grandson of Rhys ap Tewdwr, the last Welsh king of Deheubarth (south-west Wales). After Rhys ap Tewdwr was killed in battle near Brecon in 1093 his Norman enemies swept into West Wales, establishing their own lordships there: his heir, Gruffudd ap Rhys was then just a child. But when he came to manhood he began to campaign to recover Deheubarth, often allying himself with his father-in-law, Gruffudd ap Cynan, ruler of Gwynedd.
Rhys ap Gruffudd was Gruffudd`s fourth legitimate son. Two of his older brothers and his mother, Gwenllian, were killed in battle against the Normans in 1136; his father died in 1137 when Rhys was around four years old.
Rhys himself first appears in the records, along with his brothers Cadell and Maredudd, in 1146, capturing Llansteffan Castle. By 1155 Cadell and Maredudd were gone and Rhys was in charge of the campaign to regain Deheubarth which h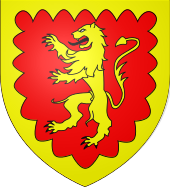 ad seen some success. Up until 1154 the Welsh had been helped by the period of the Anarchy in England as Matilda and Stephen fought over the succession to the crown, and earlier, in 1136 a union of Gruffydd ap Rhys and the forces of Gwynedd had defeated the Normans at the battle of Crug Mawr, recapturing Ceredigion – which was at first claimed by Gwynedd, but then reclaimed by Maredudd and Rhys.
Once Henry II established himself on the throne in 1154, he turned to Wales, and over the next few years there were a series of attacks and negotiations; at one point Rhys was left with only Cantref Mawr, the area between the Tywi and the Teifi, but in 1164 he managed to regain most of Ceredigion. Then in 1167 the Norman lords of West Wales invaded Ireland, leaving room for Rhys to establish himself still further. Henry II, concerned that Ireland might become an independent Norman kingdom and so a danger to his own realm, duly came to terms with Rhys, who was among other concessions appointed Justiciar of South Wales.
In the years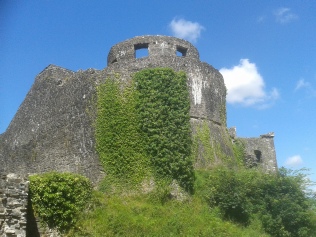 that followed Rhys built stone castles - probably the first by a Welsh prince – at Cardigan and Carreg Cennen; he held the first recorded eisteddfod at Cardigan in 1176. He founded Talley Abbey and the nunnery of Llanllyr, and was patron of a number of other abbeys, while it may have been Rhys who was responsible for collecting the Welsh laws of Hywel Dda together in book form.
Henry II died in 1189 and Rhys renewed his attacks on the Norman lordships. He had problems with his sons, however, and when he died in 1197 they fought over his legacy and Deheubarth fell apart. Still, if his kingdom did not endure as such, without his campaigns south Wales might have become another Cornwall, not quite English, but not really anything else.
He could have claimed the title of 'king' like his grandfather, but at this point the Welsh rulers began to call themselves 'princes' - though the title meant much more at that period than it does today. Rhys came to be known as 'the Lord Rhys', as Caradoc ap Iestyn, son of the last king of Glamorgan, and cousin of Rhys, became the first Lord of Afan.
References
John Davies – A History of Wales
Giraldus Cambrensis – The Itinerary Through Wales
R.R. Davies – Conquest, co-existence and change: Wales 1063-1415
Kari Maund – The Welsh kings: warriors, warlords and princes.
National Library of Wales: Dictionary of Welsh Biography - Yr Arglwydd Rhys
Related Biographies:
Gruffudd ap Rhys - father Gwenllian - mother
Rhys ap Tewdwr - grandfather Gruffudd ap Cynan - grandfather
Anarawd ap Gruffudd - brother Cadell ap Gruffudd - brother
Maredudd ap Gruffudd - brother Owain Gwynedd - uncle
Cadwaladr ap Gruffudd - uncle Gruffudd ap Rhys - son
Maelgwn ap Rhys - son Rhys Gryg - son
Ifor Bach - brother-in-law Morgan ap Caradog - cousin
Owain Cyfeiliog - son-in-law Rhodri ab Owain - son-in-law