Llywelyn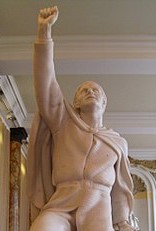 ap Gruffudd (also known as Llywelyn Ein Llyw Olaf) was the second son of Gruffudd ap Llywelyn (d.1244) and Senana, and the grandson of Llywelyn ap Iorwerth (d.1240). He was the favourite of his uncle, Dafydd ap Llywelyn (d.1246), and became ruler of Gwynedd on Dafydd's death.
When his older brother, Owain Goch (d.c.1282), returned from exile in England the two brothers agreed to divide Gwynedd between them in 1247 through the Treaty of Woodstock, although Henry III insisted on keeping possession of Perfeddwlad to the west of the river Conwy.
In 1254, Llywelyn's younger brother, Dafydd ap Gruffudd (d.1283), also asserted his right to a share of the inheritance but it was refused. This led to civil war which resulted in Llywelyn defeating both Owain and Dafydd at the battle of Bryn Derwin in 1255, after which he imprisoned them both. Llywelyn was keen to control the whole of Gwynedd and managed to take back Perfeddwlad from the English by 1257. Rhodri was to remain incarcerated for more than 20 years, but Llywelyn decided to release Dafydd from his captivity and gave him land in Perfeddwlad in an atte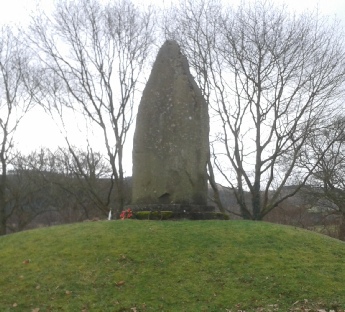 mpt to placate him, which turned out to be unwise.
Llywelyn established himself enough in Deheubarth and Powys to start calling himself the Prince of Wales, but Henry III would not recognise him as such and then Dafydd transferred his allegiance to Henry. Llywelyn went on to side with the English barons led by Simon de Montfort, and promised to marry Simon's daughter, Eleanor.
Civil war eventually broke out in England in 1264, which was ended by de Montfort's defeat at Evesham a year later, after which Henry III resumed control. In an effort to make peace, Llywelyn and Henry agreed to the Treaty of Montgomery in September 1267 and, in return for Llywelyn paying homage to Henry, he would gain the hereditary right of the principality of Wales for his successors, and also the right to be called Prince of Wales. In addition, he was granted the homage of the other Welsh princes.
This was the high point of Llywelyn's career, but it came at a cost. He had agreed to pay vast sums of money to Henry but his relationship with the English deteriorated when Edward I, the new king of England, gave refuge to his brother, Dafydd, and Gruffudd ap Gwenwynwyn of Powys. The pair had been involved in a plot to kill Llywelyn in 1274 and had fled to England after it failed.
Llywelyn subsequently refused to pay homage to Edward on the grounds that his life would be under threat should he do so. He also decided to marry Eleanor de Montfort to fulfil his promise to her father, but she was captured on her way to Wales and held in Windsor Castle by Edward.
This resulted in war and in 1277 Edward attacked Gwynedd. After Llywelyn was forced to concede defeat, the treaty of Aberconwy was drawn up with harsh conditions for him. The main part of his principality was destroyed but he would still be able to call himself Prince of Wales. His marriage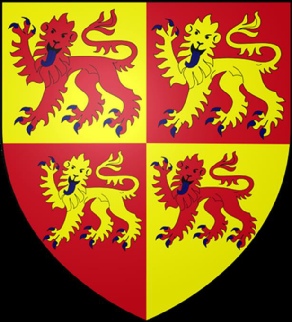 to Eleanor would also be allowed, and this took place in Worcester in 1278.
For the next four years Llywelyn struggled to live within the terms of the treaty, especially when land disputes were involved and whether Welsh or English law should be used to resolve them. It was not Llywelyn that started a new conflict, however, but his brother. Dafydd attacked Hawarden Castle in March 1282 and was quickly joined by Llywelyn, who understood the depth of Welsh support against the harsh English oppression.
After initial successes by the Welsh, the war turned in favour of the English. Ynys Mon (Anglesey) and Perfeddwlad were lost, and Llywelyn was devastated when Eleanor died giving birth to their daughter, Gwenllian. He then attempted to negotiate a peace through negotiations with John Pecham, the Archbishop of Canterbury, but Edward was determined to destroy him.
The English captured Ynys Mon in early November 1282 but were defeated at the battle of Moel-y-don as they attempted to cross the Menai Strait. Llywelyn then left Dafydd to defend Gwynedd and took a force south to open up a second front in mid Wales. On December 11th, he was killed near Builth Wells after being separated from his army. Llywelyn's head was cut off and sent to Edward at Rhuddlan before being exhibited over the gate to the Tower of London, where it was crowned with ivy in an act of mockery. The last resting place of his body is unknown but tradition says that it was interred at the Cistercian Abbey at Abbeycwmhir.
References
The Age of Conquest: Wales 1063-1415 by R.R. Davies
Twenty-one Welsh Princes by Roger Turvey
National Library of Wales: Dictionary of Welsh Biography - Llywelyn ap Gruffudd
Related Biographies:
Gruffudd ap Llywelyn - father Eleanor de Montfort - wife
Owain Goch - brother Dafydd ap Gruffudd - brother
Rhodri ap Gruffudd - brother Gruffudd ap Gwenwynwyn - prince of Powys