Owain ap Gr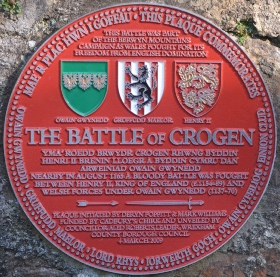 uffudd - or Owain Gwynedd as he was better known - was the son of Gruffudd ap Cynan (d.1137) and Angharad, daughter of Owain ab Edwin of Tegeingl. Gruffudd had been a strong leader of Gwynedd for many years but, by 1120, his sons were leading his forces on his behalf and building on the foundations he had laid.
Owain was born around 1100 and was Gruffudd's second son. He had at least two brothers, Cadwallon and Cadwaladr, and at least two sisters, Gwenllian and Susanna. Gwenllian married Gruffudd ap Rhys of Deheubarth and Susanna married Madog ap Maredudd of Powys.
After Cadwallon was killed in a battle near Llangollen in 1132, Owain led attacks on Norman settlements in Ceredigion with Cadwaladr. In 1136, they joined with Gruffudd ap Rhys to defeat a large Norman force at the battle of Crug Mawr near Cardigan, and Ceredigion was then annexed to Gwynedd.
In the late 1140s, they also annexed Iâl and Tegeingl in North-East Wales and, for protection, Owain built Tomen y Rhodwydd, a castle near Llandegla. Henry II led his first invasion into Tegeingl in 1157 but he was unsuccessful - his naval unit was overwhelmed near Anglesey and he was then ambushed by a Welsh force in Ewloe Woods near Hawarden. Owa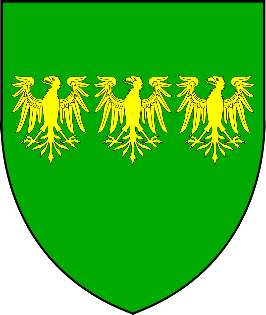 in realised that Henry had the greater military strength, however, and agreed to make peace with him to prevent a second campaign.
Madog ap Maredudd of Powys had accompanied Henry on this invasion and took advantage of Owain's subsequent withdrawal to order the destruction of Tomen y Rhodwydd. When Madog died in 1160, large parts of Powys were subsequently brought back under the control of Gwynedd.
Owain swore allegiance to Henry at Woodstock in July 1163 but then 'rebelled' against this in 1164. Henry led a campaign into the Berwyn Mountains in 1165 in order to 'carry into bondage and to destroy all the Britons (Welsh)'. Owain had assembled a large force in Corwen in order to confront him with every Welsh prince, including his nephew, Rhys ap Gruffudd (d.1197). Henry decided to take an ill-advised route into the Ceiriog Valley, however, and his men were soundly defeated at the Battle of Crogen. After this he did not attempt to invade Wales again.
In 1166 an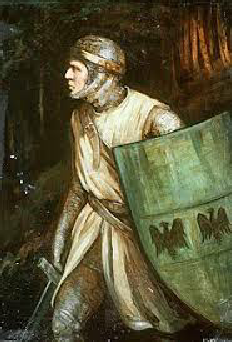 d 1167 the towns of Basingwerk, Rhuddlan and Prestatyn in Tegeingl were taken so that, for the first time in over a century, the rule of Gwynedd extended across the whole of North Wales from Anglesey to the Dee estuary.
During his reign, Owain was noted for defending his control over the bishopric of Bangor against: the pope (Alexander III); the king of England (Henry II); and the archbishop of Canterbury (Thomas Becket). He also defied the pope and archbishop of Canterbury by marrying his cousin. Owain was chiefly responsible for shaping the governmental and social order that made Gwynedd such a powerful force in the 13th century. He was the first person to call himself Prince of Wales and he offered military support to Louis VII of France against Henry.
After his death at the end of November 1170, Gwynedd was plagued by family quarrels and the land was divided and then sub-divided. Owain's eldest son, Hywel, was killed by his half-brothers at the battle of Pentraeth soon after Owain's death and Gwynedd's power then waned for almost 30 years.
References
The Age of Conquest: Wales 1063-1415 by R.R. Davies
Twenty-one Welsh Princes by Roger Turvey
National Library of Wales: Dictionary of Welsh Biography - Owain Gwynedd
Related Biographies:
Gruffudd ap Cynan - father Angharad - mother
Cadwaladr - brother Gwenllian - sister
Gruffudd ap Rhys - brother-in-law Llywarch ap Bran - brother-in-law
Madog ap Maredudd - brother-in-law Owain Cyfeiliog - contemporary
Iorwerth Drwyndwn - son Maelgwn ab Owain - son
Dafydd ab Owain - son Rhodri ab Owain - son
Cynan ab Owain - son Anarawd ap Gruffudd - step-nephew
Cadell ap Gruffudd - step-nephew Maredudd ap Gruffudd - nephew
Yr Arglwydd Rhys - nephew Gruffudd Maelor I - nephew
Owain Fychan ap Madog - nephew
Cadwallon & Einion ap Madog - supporters (see Elystan Glodrydd)