Llywelyn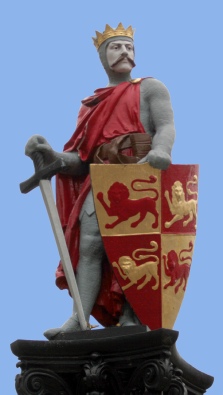 ap Iorwerth (also known as Llywelyn Fawr) was the son of Iorwerth Drwyndwn (d.c.1174) and Marared, the daughter of Madog ap Maredudd of Powys. He was the grandson of Owain Gwynedd and was probably born at Dolwyddelan but was taken to live in Powys by Marared on the death of his father.
His first marriage may have been to Tangwystl, daughter of Llywarch Goch, although this was not recognised by the church. The couple had at least two children, including Gruffudd and Gwenllian.
Llywelyn defeated a number of his Gwynedd relatives in a series of battles in the mid-1190s. These included his uncles, Dafydd and Rhodri, and his cousins, Gruffudd and Maredudd - who were all descendants of Owain Gwynedd. This made Llywelyn the sole ruler of Gwynedd by 1199 whereupon he styled himself as 'Prince of all North Wales'.
He gained the friendship of King John of England and entered into a formal treaty with him in 1201. This was the first of its kind between a Welsh ruler and the English Crown. In 1205, Llywelyn married John's illegitimate daughter, Siwan (or Joan), and John gave him the manor of Ellesmere in Shropshire. They had a number of children, the most prominent being Dafydd, who Llywelyn regarded as his heir.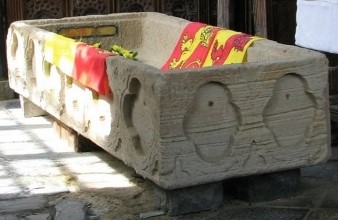 When Gwenwynwyn of Powys fell out of favour with John in 1208, Llywelyn took control of southern Powys and then Ceredigion. Llywelyn also took part in the English king's military campaign into Scotland in 1209, but in the following year his relationship with his father-in-law turned sour and John launched two royal expeditions into Wales.
Siwan acted as an intermediary between Llywelyn and her father which led to Llywelyn remaining as prince of Gwynedd, but having to surrender much of his land, and his son, Gruffudd, to John as a hostage.
Llywelyn's fortunes changed in 1212, however, when he gained the support of the other Welsh princes. By 1215, Llywelyn's war with John was also joined by the English barons who forced him to sign the Magna Carta.
In 1216, Llywelyn summoned the other Welsh princes to pay homage to him at Aberdyfi where he reinforced his position as their leader; and this was not seriously challenged for the remainder of his reign. In the same year, John died and Llywelyn later went on to sign a peace treaty at Worcester with his successor, Henry III.
Llywelyn became the first Welsh prince to discuss a treaty of alliance with a foreign power in Philip Augustus of France, and he also gained the support of the Pope, Innocent III. A number of Llywelyn's children married into Marcher families, which consolidated his position, but his aim was to ensure that he was succeeded by his son, Dafydd.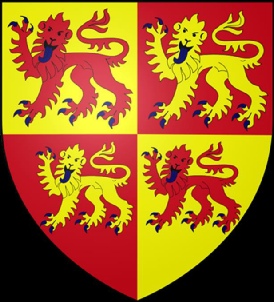 His forces attacked a number of Marcher-held towns, such as Builth, Castell Nedd (Neath) and Cydweli, and Henry sent royal expeditions into Wales in 1223, 1228 and 1231. By 1234, however, Llywelyn had managed to negotiate accords with Henry which established peace for the remainder of his reign.
In 1230 there was scandal when Llywelyn had William de Braose hanged in May 1230 after he had been 'caught in Llywelyn's chamber with the king of England's daughter, Llywelyn's wife'. Despite this, his son Dafydd later went on to marry William's daughter, Isabella.
Siwan died in February 1237 and Llywelyn suffered a stroke later the same year. He went on to die in April 1240, and was buried in Aberconwy, but Dafydd's succession to the kingdom of Gwynedd was then challenged by his older brother, Gruffudd.
Llywelyn's reign was a successful one and singled him out as one of Wales' greatest rulers: he kept Gwynedd safe and left it strong and secure; he built castles to defend it against attack; he led armies to fight Marcher lords and English kings; he was supportive of the Church and monasteries; and he brought the whole of native Wales under his control. This is why he was given the epithet 'Fawr' or 'Great'.
References
The Age of Conquest: Wales 1063-1415 by R.R. Davies
Twenty-one Welsh Princes by Roger Turvey
National Library of Wales: Dictionary of Welsh Biography - Llywelyn ap Iorwerth
Related Biographies:
Iorwerth Drwyndwn - father Siwan (Joan) - wife
Dafydd ap Llywelyn - son Gruffudd ap Llywelyn - son
Dafydd ap Owain Gwynedd - uncle Maelgwn ap Rhys - lord of Ceredigion
Gwenwynwyn ap Owain Cyfeiliog - prince of Powys