In the ye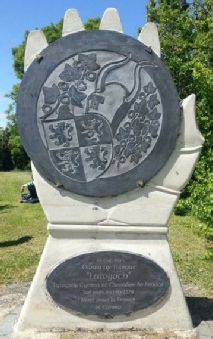 ars following Llywelyn ap Gruffudd's death in 1282 there were a number of uprisings against harsh English rule, the two most notable being in 1294-95 led by Madog ap Llywelyn, and in 1316 by Llywelyn Bren.
In Welsh mythology, the 'Mab Darogan' or 'Son of Prophecy' was the warrior who would rescue Wales in its darkest hour and rid it of its Anglo-Saxon oppressors.
One name prophesised for this person was 'Owain', and the strongest claimant to the throne of Gwynedd in the 14th century was Owain ap Thomas ap Rhodri - better known as Owain Lawgoch.
Owain's grandfather, Rhodri ap Gruffudd, was a younger brother of Llywelyn ap Gruffudd and was used as a child hostage by Henry III of England. He returned to Wales but eventually relinquished his rights to the house of Gwynedd in 1272. He then spent the rest of his life in England, much of it living as the lord of the manor of Tatsfield in Surrey.
Rhodri had a son, Thomas, who inherited his father's estates in 1315. He lived his life in England although he made a claim on the lordship of Llŷn which was unsuccessful.
Thomas' son, Owain, was born around 1330 but apparently entered the service of Philip VI of France at an early age. He lived the vast majority of his life on the continent whe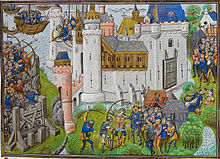 re he became an outstanding soldier in France and in other European countries.
He visited England in 1365 in order to claim possession of his inheritance, but left again for France within a year. In 1369 the English deprived him of this inheritance, however, when the Anglo-French conflict known as the Hundred Years' War re-ignited Owain sided with the French.
Owain eventually renewed his claim to the kingdom of Gwynedd and, with the support of the French court, signalled his intention to return as 'Prince of Wales'. He modified the flag of Gwynedd to make the four lions rampant in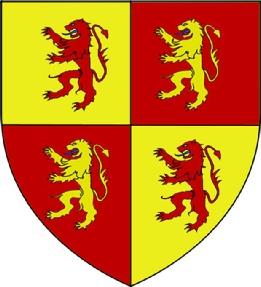 stead of passant, a flag also used by his distant cousin, Owain Glyndŵr, some years later.
The French knew Owain as 'Yvain de Galles' - Owain of Wales - and an unsuccessful invasion attempt was led by him in 1372. The French then appointed him as a diplomatic envoy to Castile shortly afterwards in order to obtain ships for an attack on La Rochelle. Owain also had a number of supporters, particularly in North Wales, and he was revered as 'Owain Lawgoch' or 'Owain of the Red Hand'.
Edward III of England decided that drastic action was needed to stop Owain, and so a Scot by the name of John Lamb was employed as a spy to assassinate him. Lamb infiltrated Owain's camp and managed to kill him during the siege of Mortagne-sur-Mer in July 1378. This political assassination went against the chivalric code which dominated medieval warfare at the time, and would be talked about for many years.
A monument was erected to Owain's memory in Mortagne in 2003, for which the majority of the funds were donated by the French Government.
References
The Age of Conquest: Wales 1063-1415 by R.R. Davies
Twenty-one Welsh Princes by Roger Turvey
National Library of Wales: Dictionary of Welsh Biography - Owain Lawgoch
Related Biographies:
Rhodri ap Gruffudd - grandfather
Tomas ap Rhodri - father
Madog ap Llywelyn - uprising of 1294-95
Llywelyn Bren - uprising of 1316
Owain Glyndwr - uprising of 1400-15