Most of ou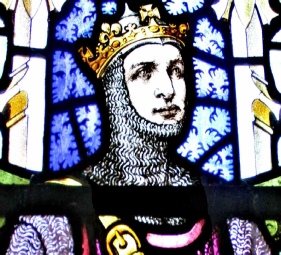 r knowledge about King Gruffudd ap Llywelyn comes from the work of Walter Map an English scribe, sublimated by Brut y Tywysogion and the Anglo-Saxon Chronicles. Gruffudd was not born to the main Royal family of Wales but was the son of Llywelyn ap Seisyllt, the ruler of Gwynedd, and his wife Angharad.
Llywelyn ap Seisyllt, who died about 1023, had two children with Angharad, a daughter whose name is not known and Gruffudd born about 1013. Angharad remarried and had two more sons, Bleddyn and Rhiwallon, two half-brothers for Gruffudd and his sister.
Gruffudd established himself as the King of Gwynedd in 1039 and fought his first battle at Rhyd y groes on the Severn in that year near the present-day Welshpool. He was victorious, crushing the English army that had set out to invade North East Wales. In 1041, he turned his attention to Deheubarth and at the battle of Pencadair he defeated Hywel ab Edwin. However, Hywel managed to escape but his wife was captured and taken by Gruffudd as his own wife.
In 1044, a battle took place at the mouth of the Tywi between Gruffudd's forces and those of Hywel. This time Hywel was killed and Gruffudd gained a decisive victory.
Almost a decade went by when Gruffudd was establishing his control over Deheubarth and fighting the Vikings who were attacking from their base in Ireland. Stormy weather blew the invading fleet from Ireland onto the rocks of the Welsh coast and this liberated Gruffudd to attack the England – Wales border area and in 1052, thirteen years to the day after his victory at Rhyd y groes, he marched his army through Shropshire and attacked Hereford and its surrounding area. Gruffudd again won a decisive victory and according to the Anglo-Saxon Chronicle, "very good Englishmen were killed and French too".
Gruffudd's capital was at Rhuddlan on the banks of the River Clwyd and he had a substantial navy anchored in the estuary - his own vessel even had a golden prow. This naval force was used to attack his enemies, as supply ships for his army, and to trade with Ireland and other European countries.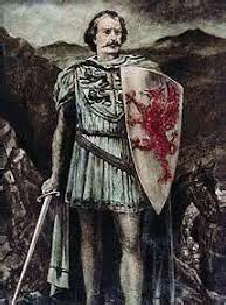 Gruffudd formed an alliance with Elfgar of Mercia, brokered by Rhys Sais and having secured his eastern border he decided to turn his attention to the Kingdoms of Morgannwg and Gwent, which were ruled by Gruffudd ap Rhydderch. Somewhere near the mouth of the River Wye, Gruffudd ap Rhydderch's forces were destroyed by Gruffudd ap Llywelyn's army arriving overland from the north and supported by Elfgar and his fleet from the south.
Gruffudd ap Llywelyn was now ready for another attack on Hereford and in 1055 he entered Herefordshire again, this time taking on the might of the city's defences and a "mighty host". He proceeded to lay waste to Hereford, leaving an estimated 400 of the defeated army's soldiers dead.
The King of England responded by sending Harold, the future King, with a grand army to attack Wales. But he failed to subdue Gruffudd and his men and a peace deal was eventually signed at Billingsley, from which Gruffudd gained areas of land near the border that had previously belonged to the English.
Then in 1056, Leofgar, the Bishop of Hereford gathered together a large army and attacked Wales up the Wye valley with the intention of regaining the land lost in the treaty. However, at the battle with Gruffudd's forces near Glasbury-on –Wye, the Bishop lost his army and his own life leaving Gruffudd as the King of the whole of Wales, which he ruled until 1063 from his Capital at Rhuddlan.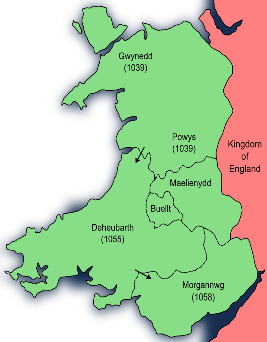 Gruffudd married the ruler of Mercia's daughter Ealdgyth and Walter Map states that he had a "beautiful wife whom he loved more than she loved him". However, we don't know which wife Walter had in mind. He had at least three children: Owain who died in 1059, Maredudd who died in 1069 and Idwal who also died in 1069.
At Christmas 1063, Harold of Battle of Hastings fame, made a surprise attack on Rhuddlan with a force of mounted soldiers and burnt the town but failed to capture Gruffudd, who escaped to the west. Harold captured Ealdgyth, Gruffudd's wife, and later married her making her the queen of England. Gruffudd failed to regroup his forces after the destruction of Rhuddlan and was murdered, possibly by Cynan ap Iago of the previous Royal Welsh dynasty and father of Gruffudd ap Cynan.
Gruffudd ap Llywelyn's achievements are astronomical; yes, he was ruthless and determined but he regained the territory between the Clwydian Mountain range and the Dee estuary and large areas along the England – Wales border establishing the border on the east. He united the whole of Wales under one King.
Thomas Charles-Edwards states in his comprehensive coverage of the period 350 – 1064 Wales and the Britons in pages 568 and 569 that "no other Welsh king known in history ruled more of his country than did Gruffudd ap Llywelyn." He goes on to speculate that "he was [possibly] responsible for the system of cantref and commote, the local territorial divisions, which covered the entire country from the commote of Talybolion in the north-west of Anglesey to Portskewett in the far south of Gwent." …. He goes further to say "I suggest, therefore, that Gruffudd ap Llywelyn who, with his power over all Wales, was responsible for the fully-developed and universal system of cantref and commote." Gruffudd ap Llywelyn must rank as one of Wales' greatest leaders.
References:
Brut y Tywysogion
Anglo-Saxon Chronicles
The Last King of Wales: Gruffudd ap Llywelyn c.1013 – 1063 by Michael & Sean Davies
Wales and the Britons 350 – 1064 by T M Charles-Edwards. Pages 568 - 569
National Library of Wales: Dictionary of Welsh Biography - Gruffudd ap Llywelyn
Related Biographies:
Llywelyn ap Seisyll - father Maredudd ab Owain - grandfather
Bleddyn ap Cynfyn - half-brother Rhiwallon ap Cynfyn - half-brother
Iago ap Idwal - king of Gwynedd Cynan ap Iago - prince of Gwynedd
Hywel ab Edwin - king of Deheubarth
Gruffudd ap Rhydderch - king of Glamorgan