Welsh History Strategy
2017

Welsh History in Welsh schools in the 21st Century:
Introduction
The Owain Glyndŵr Society believes that Welsh pupils need to learn about our history and heritage in its totality. We therefore welcome specific comments made by some of the cross curricular working parties following their deliberations. They provide a sound basis for the education of Welsh pupils in the future. The Welsh Dimension Working Party referred to curriculum models in countries such as New Zealand, Australia and Finland who had adopted the principle of National Identity at the heart of learning.
The Enrichment and Experiences Working Group, when looking at partnership development, said that careful consideration needed to be given to our heritage and culture and what teaching in Wales is all about. It recognised strengths in the existing curriculum, such as the Foundation Phase and Cwricwlwm Cymreig.
Naturally, the Owain Glyndŵr Society believes that learning about this great prince would address these aspects, but both working groups are making a more fundamental point. If pupils are not taught to appreciate and value their own heritage and culture, how can they be expected to respect different cultures and heritage? For some time, unfortunately, Welsh pupils have not been taught their own history in all its aspects. This sad situation could be described as a memory loss on a national scale. Indeed the Welsh word for madness sums it up – "gwallgof" or memory impediment.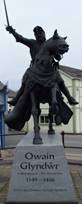 Owain Glyndŵr Statue, Corwen
To redress this deficiency, the Owain Glyndŵr Society believes that Welsh History should be taught chronologically. That is how pupils come to understand the gradual and sudden changes in people's development, rather than dipping in to various periods willy-nilly. A chronological approach would show children in Welsh schools how the British/Brythoniaid became Welsh/Cymry and faced external challenges from Romans, Irish and Saxons. These invaders offer an opportunity to study their societies and customs as well as their enduring legacy in Wales.
A country recognisable as Wales emerged after the departure of the Romans, and the Welsh language developed in a form that is, to a degree, recognisable today. One of the striking features of this neglected period, particularly at examination level in our schools, is the influence of the saints - who influenced areas beyond Wales and is particularly evident in the numerous places in Wales named after them. At the same time there is evidence of trading between Wales and the Western fringes of Europe. This period provided opportunities to study not only local and Welsh history but what was happening beyond.
The following centuries saw increasing tension between Welsh rulers and the developing kingdoms in what was becoming recognisable as England. However, Hywel ap Rhodri ap Cadell realised that the legal systems introduced in the English kingdoms should be emulated in Wales. In approximately 930 A.D. he succeeded in creating a forward looking legal system for Wales in conjunction with representatives from all parts of Wales.
The succeeding half millenium between the laws of Hywel Dda and Owain Glyndŵr's ascendancy, saw further attacks on Wales. This period too has been neglected in our schools, particularly at examination level. However, it offers an opportunity to understand the Normans in their homeland and beyond, before they became identifiably English, and their influence in Wales. The wars between the Welsh and Normans/English, offer numerous opportunities for local study prior to looking beyond Offa's Dyke at developments there. At the same time, Welsh princes were developing our own traditions and customs as the Lord Rhys exemplified when he held the first Eisteddfod at Cardigan in 1176.
The last and greatest Welsh prince was Owain Glyndŵr who faced the might of the English Kingdom in the early fifteenth century.
The Owain Glyndŵr Period
Understandably, our primary interest is in the history and legacy of Owain Glyndŵr. What makes his story so important?
Glyndŵr's influence on Welsh History has been acknowledged many times. Streets, town squares, public houses and a university carry his name. His significance has been constantly demonstrated over the years as exemplified by:-
- When ten statues of the most famous, pre Victorian Welsh people were commissioned by Cardiff City Hall in 1906, Owain Glyndŵr topped the popular vote;

Owain Glyndŵr Statue, Cardiff
- In 2002, the BBC organised a poll to discover the 100 greatest Britons of all time. Glyndŵr topped the Welsh vote, coming 23rd on the list;
- Perhaps the most revealing is the Sunday Times analysis in 1999 of the "Makers of the Millenium". A hundred leading people in fields such as politics, the arts and science were asked their views. Owain Glyndŵr came 7th on the list.
His importance is recognised far beyond his homeland.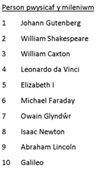 Owain Glyndŵr – 7th most significant person of the millennium
His is an interesting story. Resistance to Norman/English attacks had been led by the Princes of Gwynedd. The murder of Owain Lawgoch in 1378 at Mortagne sur Mer, ended the Gwynedd dynasty's leadership role. Responsibility for defending Wales from outside encroachment now rested on the shoulders of a middle-aged man of comfortable means who had served King Richard II on more than one occasion. Richard's murder, by his cousin Henry of Lancaster in 1399, freed Owain of his oath of loyalty to the Crown. Henry assumed the title Henry IV and proclaimed his son Prince of Wales. This proclamation, together with his longstanding dispute with his neighbour Reginald de Grey, a close friend of Henry IV, was too much for Owain. Glyndŵr could trace his family tree to the royal houses of Powys and Deheubarth, and he was proclaimed Prince of Wales at Glyndyfrdwy on September 16th 1400.
A Bridge in our History
A case can be argued that the Owain Glyndŵr-led uprising acts as a signpost or bridge between early Welsh History and events which occurred much later. He was the last and most successful of the native Welsh Princes. His statements often refer to the period when the original Britons/Welsh people ruled most of these islands. The then Archbishop of Canterbury made the point as the uprising progressed:
"The Welsh being sprung by unbroken succession from the original stock of Britons, boast of all Britain as theirs by right".
There are echoes of Hywel Dda's lawmaking in the 10th century. Hywel had called representatives from all corners of Wales to Whitland to advise him as he created laws for the whole of Wales. Similarly, Glyndŵr summoned representatives to his Parliaments.
Glyndŵr's approach to France was not a novel idea. The Pope, infuriated with King John in 1212/13 had indicated that there might be benefits from an alliance between Llywelyn the Great and King Philip Augustus of France. Owain Lawgoch, the last descendant of the House of Gwynedd, organised Welsh forces in support of France during the Hundred Years War. However, neither he nor the two Llywelyns succeeded to the extent that Glyndŵr did. Owain's ambassadors, John Hanmer and Gruffudd Yonge, secured a formal alliance with France in 1404. The following year, a French force of some 2,500 landed in Milford Haven to assist Glyndŵr. This is the only occasion in our history which has seen an active Foreign Policy implemented.
The Pennal Letter of 1406 recognised the Avignon Pope. But Glyndŵr and his advisers in return required the French to support:
- An independent Welsh church with Welsh speaking bishops;
- The establishment of two universities, one in the north and the other in the South;
- Recognising Wales as an independent country under Glyndŵr's rule.
Although the uprising gradually petered out, there are many echoes of the key elements of the Pennal Letter in our later history:
- Elizabeth I realised that the Protestant Bible in Wales would have to be in Welsh if it was to have the desired effect. She refused to allow a Cornish language version;
- Welsh was also the language of the great Methodist hymn writers of the 18th century, such as Ann Griffiths and William Williams Pantycelyn;
- Welsh was the dominant language in Griffith Jones' pioneering circulating schools which drew the attention of Catherine the Great of Russia in 1764;
- Even as the Industrial Revolution raged and brought English influence and the English language deeper into Wales, Evan and James James from Pontypridd composed the song in Welsh that was to be adopted as our national anthem. Hen Wlad Fy Nhadau was composed in 1856.
As the 19th century progressed, there are further echoes of the Pennal Letter in Welsh politics.
University of Wales
The second half of the 19th century saw a determined effort, led by Hugh Owen, to establish colleges and a university in Wales.The first step was the purchase of a building in Aberystwyth in 1872 which was intended to be a hotel. Generous donations by industrialists such as David Davies and "the pennies of the poor" kept the college open throughout the following decade. Further colleges were established at Bangor and Cardiff in the 1880s. In 1893, the aspirations of John Trefor, Gruffudd Yonge and Glyndŵr five hundred years earlier, was realised with the granting of a charter for the Federal University of Wales.
Dis-establishment of the Church in Wales
Although the Industrial Revolution was transforming the lives of a significant percentage of the Welsh people during the second half of the nineteenth century, it was the issue of dis-establishing the Church in Wales which dominated political life. This and other related issues ensured that the Liberal Party was the dominant force in Welsh politics up to 1914. It provided the springboard for the career of Lloyd George. Riots erupted in the Vale of Clwyd in the 1880s and, by 1920, Lloyd George was Prime Minister and the Church in Wales was dis-established. Wales had its own Church and Archbishop, as Glyndẇr and his advisers had wanted half a millennium earlier.
An independent Wales
Unlike Ireland, Wales did not put independence at the top of the political agenda in the late 19th and early 20th century. Wales's national character was expressed primarily in religious and cultural forms. However, the creation of national institutions, such as the University in 1893 and Library in 1907, did reflect a growing awareness of Wales as a different political entity with its own particular characteristics. Within the Liberal Party, Tom Ellis and Lloyd George briefly led the "Cymru Fydd" movement which demanded Home Rule for Wales.
It may have been the establishment of these national institutions and the dis-establishment of the Anglican Church in 1920 that Sir John Lloyd had in mind when he delivered his Ford lectures at Oxford University in 1920. In his revised version of the lectures in 1931, he was unequivocal in his analysis of the significance of Owain Glyndŵr, describing him as "a great national hero" and that "he may with propriety be called the father of modern Welsh nationalism".
Whatever the views of Sir John Lloyd there were more pressing social issues to tackle prior to and immediately after the Second World War. However, the demand for greater Welsh control over our affairs resurfaced in the late 1950s and 1960s.
Harold Wilson's Labour Government established the position of a Secretary of State for Wales in 1965 and the 1997 Referendum saw the establishment of the Welsh Assembly. In 2011, the people of Wales voted to allow the Assembly to legislate on devolved issues and agreement is being reached on tax varying and borrowing powers.
Wales now has a greater degree of self government than at any time since 1400-1409. As he stepped down as First Minister in 2009, Rhodri Morgan declared that the period since the establishment of the Welsh Assembly had been "our greatest years since Glyndŵr". Six hundred years have elapsed since the uprising and Wales is a very different country to the one inhabited by Glyndẇr. However, the achievements and legacy of those remarkable events live on and have an effect on our lives today.
Every Welsh pupil should be taught about Owain Glyndŵr and his importance in our history.
Options within the proposed Humanities Curriculum
Whilst accepting Professor Donaldson's intention to concentrate on six Areas of Experience, the Owain Glyndŵr Society is convinced that Welsh children should be taught our history in its entirety within the new curriculum. Greater emphasis is required on the "Age of the Princes" which has previously been neglected by many Welsh schools.
The Owain Glyndŵr story offers opportunities to visit numerous sites associated with the uprising and to reference support and enmity in Wales, England, Scotland and France - as well as the Papacy.
The uprising spread throughout Wales and so many places could include the story under the heading of Local History. Under Unit 4 Historical Investigation, in the Entry Level Certificate in History course, the following examples would be appropriate:
- Corwen/Glyndyfrdwy – his early home and site of the famous declaration of September 16th 1400;
- Llansilin/Sycharth – his splendid home as described by his court poet, Iolo Goch;
- Hanmer – where he married Margaret, the daughter of Sir David Hanmer who had held numerous, influential positions at Richard II's court;
- Knighton/Bryn Glas – key battle of 1402 and capture of Edmund Mortimer;
- Machynlleth – site of Wales' first Parliament in 1404;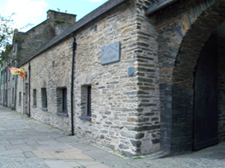 Y Senedd-dŷ, Machynlleth
- Harlech – 1405 Parliament and Glyndŵr's court;
- Aberystwyth – one of the key castles conquered by Glyndŵr's forces in 1404;
- Llandovery – Llywelyn ap Gruffudd Fychan was executed here , in the presence of Henry IV, because Llywelyn had supported Glyndŵr;
- Carmarthen – Wales' foremost town in the early 15th century, captured by Glyndŵr's army in July 1403.
- Bridgend – the siege of Coety Castle in 1404 by Glyndŵr's forces.
- Milford Haven – approximately 2,500 French troops landed here in 1405 to support Owain Glyndŵr's battle against Henry of Lancaster .
History Skills
A key history skill is evaluating evidence. Naturally modern history offers a greater wealth and variety of evidence than earlier periods. This may lead teachers and pupils to favour the study of modern history where such attractive evidence as colour film may be readily available. However, budding historians should understand that significant events happened in history long before modern technology and methodologies existed. These periods make assessing evidence more challenging as there is less of it. This crucial point is well made in R.R. Davies' authoritative study, "The Revolt of Owain Glyndŵr" [pages 97-101].
Apart from the numerous locations associated with the Glyndŵr uprising which could be visited as part of pupils' experiences, there are resources available to assist with its teaching. Both the Owain Glyndŵr Society and the Machynlleth Centre have useful websites. Theatr Maldwyn's first production was "Y Mab Darogan" and there are many other songs about Glyndŵr as well as numerous poems. Shakespeare's Henry IV Part 1 has Glyndŵr as a central figure. Pupils would benefit from R.R. Davies' analysis of how opinions about Glyndŵr changed over the centuries when evidence of his statemanship as well as his fighting capabilities emerged with the discovery of the Pennal Letters. Such an analysis would enhance pupils' "critical thinking" and "planning and organisation".
Glyndŵr's history offers many cross curricular opportunities. We trust that the emphasis on Teacher Training in the proposed curriculum will result in teachers of the future, in many disciplines, being more aware of the significance of this period and better able to teach it. Naturally, the Owain Glyndŵr Society hopes that new digital material will be developed to encourage teachers to tackle this fascinating and important period.
Examinations and Conclusion:
There are very few opportunities to study the Age of the Princes in general, and Owain Glyndŵr in particular, according to information provided by WJEC officers in 2010. Whilst we accept that schools should have a degree of choice in what they offer at examination level, it is evident that the readily available and attractive materials, relating to issues such as the Nazis and the Civil Rights movement in the USA, have led teachers to neglect Welsh history in general and the "Age of the Princes" in particular at examination level. How many Welsh schools use the "Cornerstones" resource which was designed for the English History curriculum and in which Welsh History is sidelined? When Welsh history has been taught, it has often been done under the misguided but convenient belief that the story started when the Guests and Crawshays arrived in the South Wales valleys. The Industrial Revolution had a huge effect on Wales, but Wales had an exciting and eventful history prior to the Industrial Revolution and it has not been given sufficient attention in all our schools.
We frequently come across adults who tell us that they were not taught about the Welsh Princes and Owain Glyndŵr as schoolchildren. This impression of what is taught in the History curriculum in Welsh schools is naturally incomplete. What we are convinced of is the significance of the Owain Glyndŵr-led uprising in our history, and that it should be a mandatory element taught to every Welsh child within the History curriculum and offered at examination level. In so doing, both current and future generations of Welsh people will be provided with a new pride in the history of this unique nation.