<![if !vml]>

<![endif]> Six Ashes ~ Onennau Meigion <![if !vml]>

<![endif]>
       Six Ashes was at the southern edge of a wood which formed the core of Morfe Forest. This was a royal forest stretching from the River Severn in the west, to the River Worfe in the north, and to Abbots Castle Hill near Seisdon in the east. In ancient Welsh literature, however, it was known as the 'Onennau Meigion'.
       The wood covered the area from Bridgnorth to Six Ashes, but by the 17th century it had become a heath. This was enclosed in 1805 when the A458 road was laid, and cuttings were planted next to it from the original ash trees which had been felled.
<![if !vml]>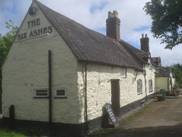 <![endif]>
       The new noticeboard is next to the beer garden of the Six Ashes country pub and the text was written by Prof G.A.Williams. It describes the importance of the area to the history of both Wales and England, and is on the modern border between Shropshire and Staffordshire.